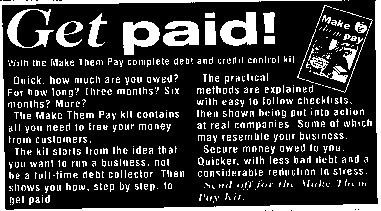 Get paid!
With the Make Them Pay complete debt and credit control kit.
Quick, how much are you owed? For how long? Three months? Six months? More?
The Make Them Pay kit contains all you need to free your money from customers.
The kit starts from the idea that you want to run a business, not be a full-time debt collector. Then shows you how, step by step, to get paid.
The practical methods are explained with easy to follow checklists, then shown being put into action at real companies. Some of which may resemble your business.
Secure money owed to you. Quicker, with less bad debt and a considerable reduction in stress. Send off for the Make Them Pay Kit.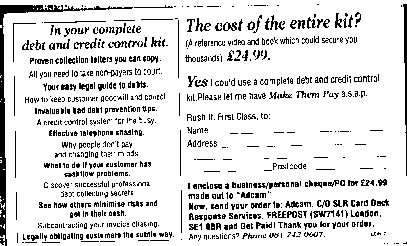 In your complete debt and credit control kit.
Proven collection letters you can copy.
All you need to take non-payers to court.
Your easy legal guide to debts.
How to keep customer goodwill and collect.
Invaluable bad debt prevention tips.
A credit control system for the busy.
Effective telephone chasing.
Why people don't pay and changing their minds.
What to do if your customer has cashflow problems.
Discover successful professional debt collecting secrets.
See how others minimise risks and get in their cash.
Subcontracting your invoice chasing.
Legally obligating customers the subtle way.



The cost of the entire kit? (A reference video and book which could secure you thousands) £24.99.
Any questions? Phone 0181 742 0607.
ORDER FORM.
Yes, I could use a complete debt and credit control kit.
Please let me have Make Them Pay a.s.a.p.
Rush it, First Class, to:

Name
Address
Postcode

I enclose a business/personal cheque/PO for £24.99 made out to "Adcam" _
Now, send your order to:
Adcam.
C/O SLR
FREEPOST Etc.
And Get Paid!
Thank you for your order.