The Creative Solution: In your face and corner the mainly teen and young adult market for two years at a price premium.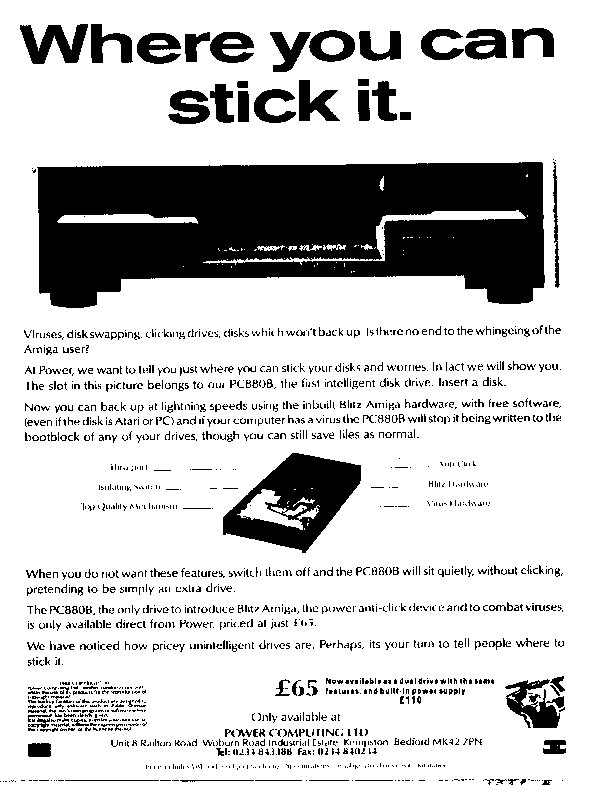 Where you can stick it.
Viruses, disk swapping, clicking drives, disks which won't back up. Is there no end to the whingeing of the Amiga user?
At Power, we want to tell you just where you can stick your disks and worries. In fact, we will show you. The slot in this picture belongs to our PC880 B, the first intelligent disk drive. Insert a disk.
Now you can back it up at lightning speeds using the inbuilt Blitz Amiga hardware, with free software, (even if the disk is Atari or PC). And if your computer has a virus the PC880 B will stop it being written to the bootblock of any of your drives , though you can still save files as normal.
When you do not want these features, switch them off and the PC880 B will sit quietly, without clicking, pretending to be simply an extra drive.
The PC880 B, the only drive to include Blitz Amiga, the Power anti-click device and to combat viruses, is only available direct from Power, priced at just £65.
We have noticed how pricey unintelligent drives are. Perhaps, it's your turn to tell people where to stick it.